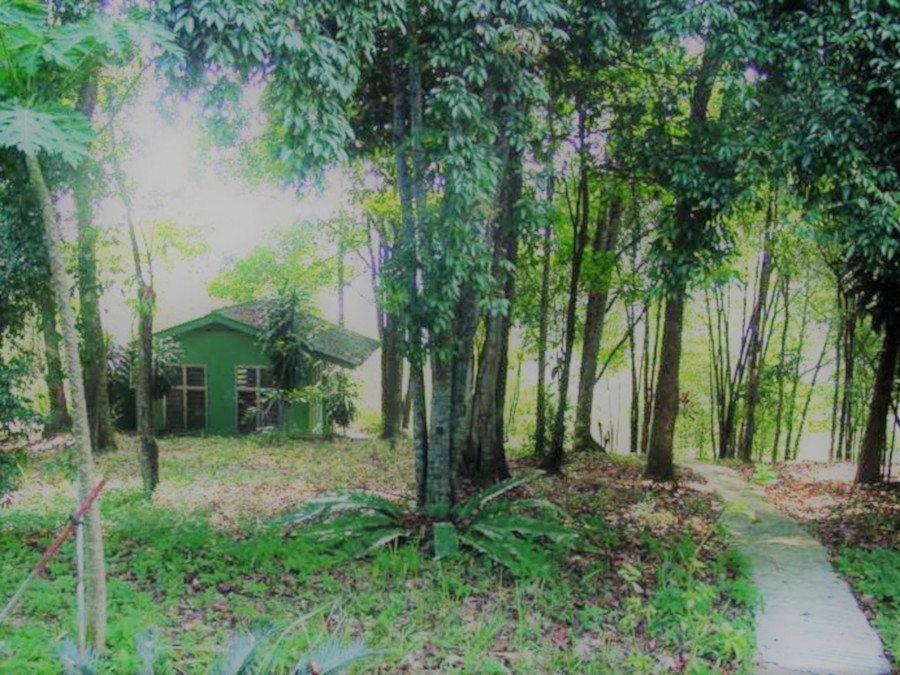 When the Vihara was established in 1998, Kutis (monks dwellings) no. 1 to 5 were constructed. The others were subsequently constructed over the years until December 2009 when Kuti no. 9 was completed.
The Kutis measure 4.5m X 4.5m, with bathroom attached, except for Kuti 6. Most of the A-roofs were later renovated to become flat concrete roofs because many ants hid in the ceiling.
The ten thousand gallon concrete water tank (with Kuti 6 sitting above) was constructed in 1999 to store water piped from the neighbouring hill.  The pipe line is 1300 metres long.
The two storey Dhamma Sala, used as a Meditation Hall and for Dhamma talks, was completed in 2004. The kitchen was on the ground floor verandah corner, and the first (top) floor was used as a dormitory, office and Laity Library.
In 2005, a semi-detached building with each half similar to a Kuti was completed. One half is used as a Sangha Store for robes etc, while the other half was used as a Sangha Library cum Sewing Room and Coffee Room.  Later in 2014, the Sangha Library was moved.  The second half of the building is now used as a Sangha Coffee Room since the Sangha Sewing Room was moved to the top floor of the Dhamma Sala in 2018.
The two storey eight rooms dormitory, constructed on an elevated ground adjacent to the Dhamma Sala, was completed in 2008. It was then used as the Women Quarters.
A two storey Dana Sala cum Lay Quarters was completed and officially opened on August 2012 by the founding Abbot's Preceptor Phra Khru Watchara Thamvirot from Thailand.  This building is suitable to be used for Dhamma Camps.
The Lay Quarters on the first floor has a Ladies' Section which can accommodate about 80 people, and a Men's Section which can accommodate about 70.  The room for Maechees can accommodate 10 people.  The new kitchen is about 6m X 6m, with one adjacent Store Room.
The old wooden store was near collapsing.  It was demolished and a three storey building was constructed to replace it in 2013. The ground floor is used as a Store and Workshop. The other two floors can be used as administrative offices and for meditation in the future.
Kuti no. 1 was demolished and a two storey Sangha Library (ground floor) and Uposatha-ghara (Uposatha Hall on first floor) was constructed and completed in February 2014 to replace it. This last building project completed the 15 1/2 years building construction phase of Vihara Buddha Gotama.
The 3 meters high concrete wall on two sides of the Vihara to deter the entry of burglars was completed in 2018 after 3 years of construction work.
May all who contributed in any way rejoice in this meritorious work!